Samanvaya was started in 1998 by Rama and Ramasubramanian. Rama was working for a environmental group in Chennai for a few years before that and Ramasubramanian quit corporate consulting career just prior to starting Samanvaya.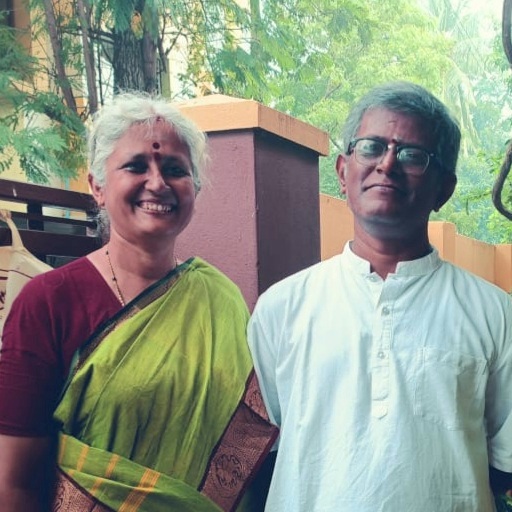 Like the traditional rule in life, Samanvaya has changed its working ecosystem every 7 years. We primarily worked with the green groups, civil society organisations and Gandhi scholars in the first 7 years, civil society organisations and intellectuals / scholars in the subsequent 7 years, government and civil society groups in the third 7 years and increasingly now with governments and multi-lateral organisations.
The founders were lucky to have some of the Great Masters as inspiration and mentors in this journey – the name, "Samanvaya" (meaning Harmony in Sanskrit) comes from a powerful visionary lecture by the former President of the Ramakrishna Mission, late, Swami Ranganathanandaji. The bo-leaf as our logo, comes from an actual leaf, given during the initiation into the Precepts given to our co-founder, Ramasubramanian, by the renowned Zen Buddhist teacher, late Thay Thich Nhat Hanh.
Our work is inspired and shaped by the framework and ideals of Mahatma Gandhi, about whom the founders had their initial education with the late Gandhian Historian, Sri. Dharampal and later shaped by Ven Samdhong Rinpoche and late Sri Ravindra Sharma. Our thoughts in social sector are owed much to the learning opportunities provided by the members of the erstwhile PPST group (particularly Sri. T M Mukundan, Dr PLT Girija, Sri. AV Balasubramanian, D Vijayalakshmi), Prof. Sultan Ahmed Ismail, Sri Pawan Gupta, Dr Claude Alvares, late Md. Idris, Prof Shiv Vishwanath, Mr. Joseph Thomas among others. It has been an honour for us to have had deep conversations and interactions with all these amazing personalities.