Building Future Institutions – Consulting Services
Future Institutions according to us are Institutions that are built on the needs of the next 50-100 years in mind. While commercial organizations today survive on the fluctuating market conditions and can't think or envision beyond a couple of years, institutions and efforts that are built on the ethos of Sustainability are the ones that are capable of surviving for much longer. Conceptualizing, Re-orienting, Building, Operationalizing, Systemizing, Trouble Shooting and Reviving Organizations to equip them towards a sustainable, socially responsible, ecologically sensitive and economically viable work.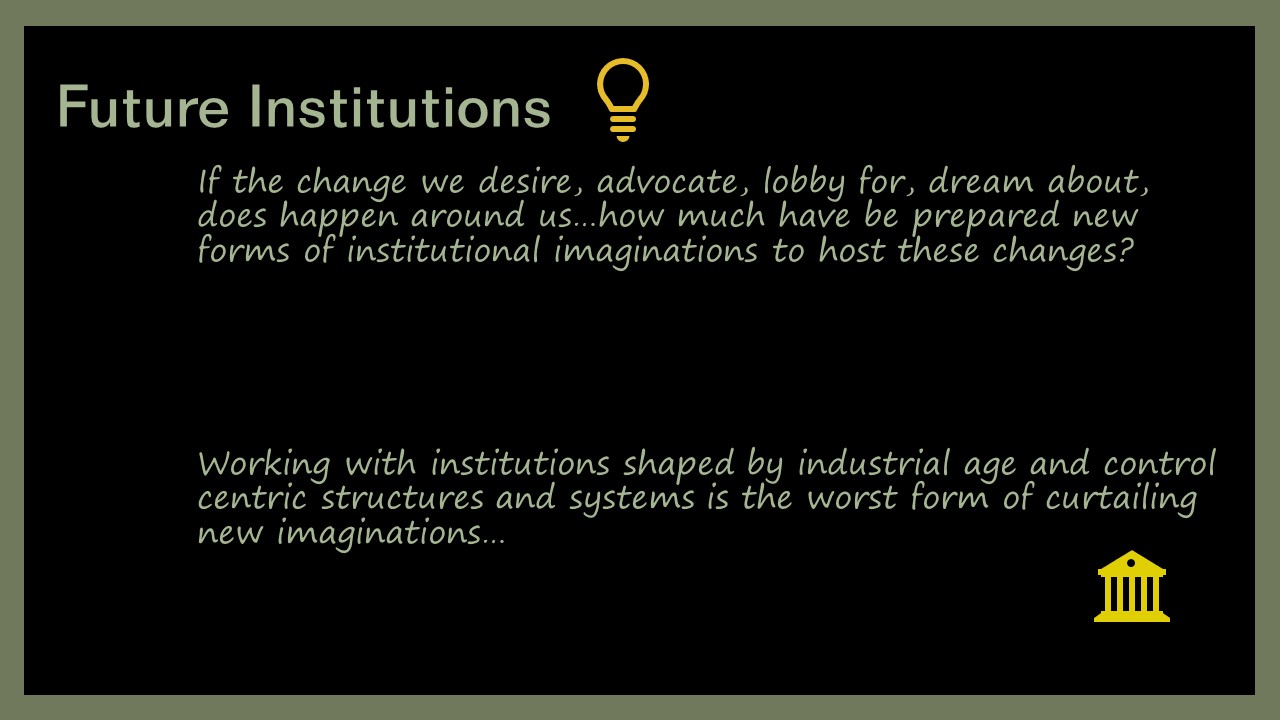 Future Institutions Facilitated by Samanvaya Consulting
Sustainable Livelihoods Institute
Nammalvar Multiversity
Development Consulting / Review / Assessment
Because we are associated with broadly the domain of work known as 'Development Sector', majority of our past Consulting work has been in this domain of expertise. Broadly the areas in which we have provided services and will continue to provide services include - 
Conceptualizing, Creating Sustainable Rural Livelihoods Projects
Developing Conservation linked Livelihood Projects
Conservation linked livelihood in the post-disaster situation 
Performance Appraisal for Community based Institutions
Conceptualizing and implanting viable and feasible Information Strategic Planning for Communities
Building Sustainable Local Economy with Local Governance Institutions 
Management Reorganising and Process Design for Development Organizations 
Conceptualizing and Creating Organic Food Consumers Network
Studying, Building and Capacity Building for Rural Supply Chain
Building Organisational Vision & Mission and Re-alignment of Organisational Processes
Knowledge Systems Consulting for Rural Technology Innovation Project
Consulting Projects and a Select List of Clients 
Centre for Indian Knowledge Systems, Chennai
CIOSA Network, Chennai
COMPAS Network Asia, Chennai
Covenant Centre for Development, Madurai
CR Biz, New Delhi
DHAN Foundation, Madurai
Gandhigram Trust, Gandhigram
LEAD India, New Delhi
MIT, Boston, U.S.A.
Multiversity, Goa
CCD, Madurai
Organic Farming Association of India, Goa
FAO, New Delhi
Practical Action, Colombo, Sri Lanka
SIDH, Mussoorie
Sri Sarada Ashram, Ulundurpet
Tamilnadu Organic Farmer's Movement, Nagapattinam
TeNet Group, IIT-M, Chennai
Third World Network, Penang, Malaysia
ICRISAT, Hyderabad
Auroville Village Action Group
INAFI, Madurai
Pitchandikulam Forest, Auroville
Auroville IRD
Foundation for Revitalization of Local Health Traditions (FRLHT), Bengaluru
Sangamam Trust, Auroville
Ekam Foundation, Chennai
Upasana Design Studio, Auroville
ASSEFA, Madurai
Sustainable Livelihood Institute, Auroville
Ramasubramanian, Chief Samanvaya has also been invited to be in the panel for several Government agencies as a Consultant in his individual capacity though it is based on the background of the work done as Samanvaya. These include - 
State Planning Commission, Government of Tamil Nadu
State Institute of Rural Development & Panchayati Raj, Government of Tamil Nadu
National Institute of Rural Development (NIRD), Government of India
National Rural Livelihood Mission (NRLM), Government of India
Tamil Nadu State Rural Livelihood Mission (TNSRLM), Government of Tamil Nadu
UN Food & Agricultural Organization (FAO), New Delhi
UN World Bank, New Delhi
Tamil Nadu State Institute of Rural Development & Panchayati Raj (SIRD&PR)
Research / Studies
Purpose of social research is to further knowledge that shapes action. The starting block of research often is set based on a pre-determined action that needs to be achieved for betterment of commercial, power centered and / or identity retention objectives. Research may start without a purpose of final end and only as a quest to know and become aware. And when the awareness can in turn inform knowledge and the knowledge with awareness shapes action, the action is whole in its ability to align with and support the global necessity. We do undertake customized research / studies that directly impact rural sustainability / livelihoods and social initiatives elsewhere. Some of the studies and research work that has been undertaken by Samanvaya team is given below. 

Education
Samanvaya develops customized higher education programmes that are aligned with the needs of specific clientele, be they students and / or professionals. These are offered online and offline. Some of the subjects on which courses are offered are - 
Contemporary Gandhi:  Singular focus of education is often projected as that to gain employment, obsession with this has created a value-bereft system, where the students are trained to compete, develop greed, propel themselves at the cost of others, individualize successes and become a celebrity, eventually to be enslaved and become part of a greedy few.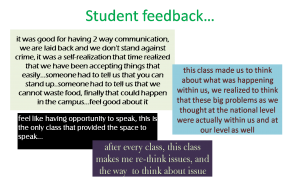 This course looks at the world of  'career' (or what is presented as the singular career to youth) and makes them face some fundamental questions about their needs, happiness and if there was a way one could escape such an enslavement. It helps students to imagine and acknowledge and eventually work towards applying and enjoying multiple ways of learning and living. It places values and contentment, peace and individual choice to be free over that of a collective prosperity of a structured and enslaving market place, it aims to provide a bearing of justice and peace over that of greed and aggression to the students. 
Past Programmes: 
Elective Course on Contemporary Gandhi for Students of B.Tech at IIIT, Sri City, Andhra Pradesh, Jan – Apr, 2017, 2018, 2019
Dharampal's India – an online course on understanding the works of the Gandhian Historian, Sri. Dharampal, Online 2005
Certificate Course on Green Economy based on the works of J. C. Kumarappa, the Gandhian Economist along with the Madras School of Social Work, Centre for Social Entrepreneurship. Feb – May 2021.