As a Nation and Society since last year, the Pandemic has given us many lessons. While the Healthcare professionals have come much into the limelight thanks to media houses and social media that has highlighted their work in great detail, the civil society that responds to every challenge represents the will of the ordinary people who are willing to step out and do extra ordinary work. Voluntary work that ordinary citizens often initiate without worrying about the nature of the challenges or their agreement or dis-agreement as its causes, who is responsible or what may be the consequences.
This year we bring to the focus one such individual, Mr. Thilak Raj. He has been at the forefront of supporting the migrants returning back to their native places here in Chennai, facilitating their long arduous journey last year, by organizing a support system. This was the first phase of the pandemic. The second phase saw Thilak reach out to those who were struggling to find hospital beds, guidance in the hospitals, oxygen cylinders, etc., with a civil society initiative that brought together several organizations to create a support structure and network. He has not been articulating the challenges of the migrants or for that matter the problems faced by the patients at length or writing about them on social media even. He has managed to work through this period and provide support like most people would do, only at a much larger scale.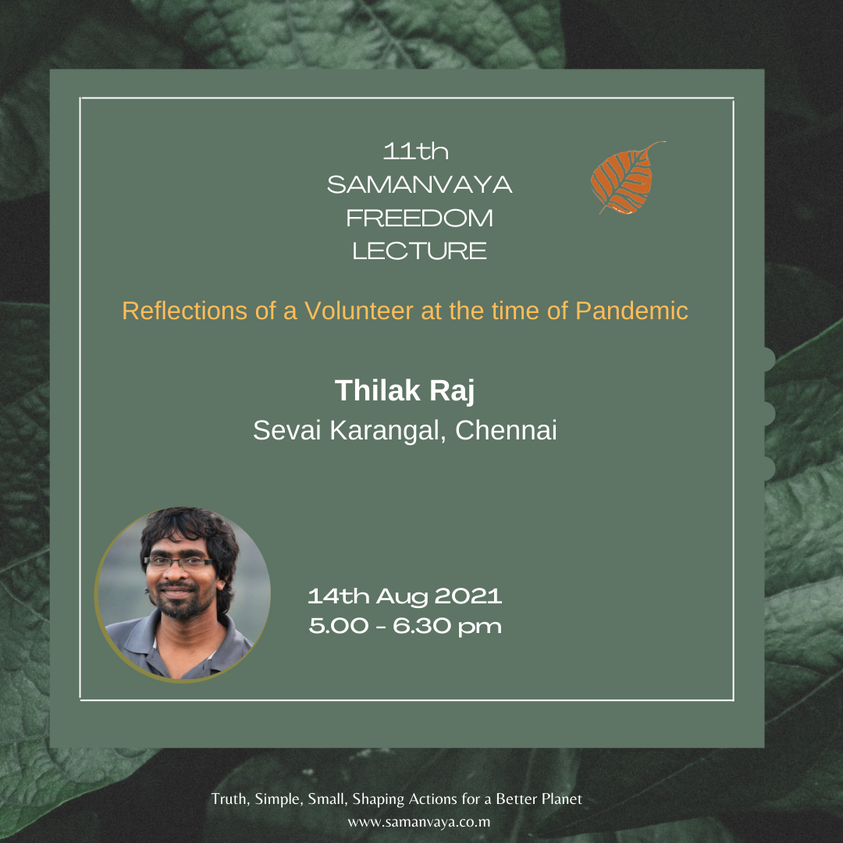 On the 14th evening, Thilak reflecting on what are his thoughts on Freedom. What does Freedom mean in the context of the Pandemic and capacity of the individual citizen to create and manage support structures. He will be introduced by another old friend of Samanvaya, Mr. Ananthasayanan of the Organic Farmer's Market and ReStore fame. Ananthoo had written about Thilak's effort last year when he had shared his own effort to reach out to the returnee migrants, Ananthoo records how when he and a couple of others were trying to reach out the migrants, Thilak was already in the field offering them food and other needs. Freedom is all about celebrating the capacity of the ordinary citizens in any country to initiate and sustain changes through humane action or creativity to benefit everyone. An expression of freedom during polarized political times often gets to be construed as either being with or against someone or other.
Let's celebrate Freedom of the Citizen to act humanely this Independence Day. In compliance with the current times, we are organizing this programme as an online one. The Freedom Lecture is now available online in our youtube channel.
If you want to volunteer with him, here is the link (https://docs.google.com/forms/d/e/1FAIpQLScKDqiTlTxvAmxq2NYfcN1p-nNWFw_ol2ShIZX_hRcCx5Sjlw/viewform)for the same and if you want to donate to his efforts, here is the link (https://docs.google.com/forms/d/e/1FAIpQLSejr30TTJrGqmHm2pvoBxgzPIkOJd7U9SnG8UltJi_AoHU10w/viewform) for that as well.
Do share the link for the lecture widely, it is important to share such inspiring stories and insights, lest Independence Day becomes a mere ritual, these are true representations of freedom and celebration of our true capabilities in this country.
-------------------------------------------------------------------------
Previous Samanvaya Freedom Lecture Details
1st Samanvaya Freedom Lecture by Creator of Rural Spiritual Cultural Institution, Swami Ananthanandaji of Ulundurpet Sri Sarada Ashram, Presided over by Dr. A.V. Balasubramaniam, CIKS, Chennai
2nd Samanvaya Freedom Lecture by Organic Farmer Late Sri. Puliyangudi Gomathinayagam, Presided over by late M.V.Murugappan
3rd Samanvaya Freedom Lecture by Rural Herbal and Home Garden Creator, Smt. Kasthuri Akka, Presided over by Sri. Muthuvelayudham, CCD, Madurai
4th Samanvaya Freedom Lecture by Volunteers Network Coordinator Sri. J.Prabhakar, Ennangal in Sangamam, Presided over by Dr.Badrinath of Sankara Nethralaya
5th Samanvaya Freedom Lecture by Educationist Ms..L.S.Saraswathi, Presided over by Dr.Annamalai, Director Gandhi Study Cente
6th Samanvaya Freedom Lecture by r Rural Alternate Educationist Smt. Meenakshi, Puvi dhan, Presided over by Smt. Parimala Rao
7th Samanvaya Freedom Lecture by Steward of Forests, Sri. Joss Brooks, Presided over by late Sri. Dattratri, City Planner, Chennai
8th Samanvaya Freedom Lecture by Dr. Sai Lakshmi, Ekam Foundation and Presided over by Smt. Shreya, MD of Malladi Brothers
9th Samanvaya Freedom Lecture by Ms. Aparna Nagesh of Dark is Beautiful Campaign, Ms. Nandhini, Volunteer along with Dr. V. Suresh of PUCL under the title 'Small is Beautiful'
10th Samanvaya Freedom Lecture by Swami Vimurthananda, currently head of the Ramakrishna Math in Tanjavur on the occasion of the 150th birth centenary year of Swami Vivekananda.